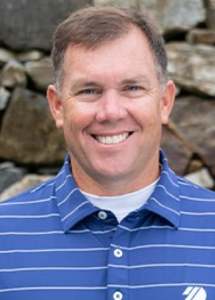 ROGER KNICK, Sports Performance Specialist/ Entrepreneur, has spent his entire 20+ year career developing and refining his knowledge and practical application of coaching. He has applied CFMS to his PGA, TPI Level 3 Fitness, TPI Junior Level 3 and K-Motion Biomechanics, Paul Chek Biomechanics for Golf certifications to his educational background of exercise science from Elon University. His clients include aspiring high school athletes and collegiate athletes as well as PGA, LPGA, NHL, MLB, NBA and NFL players. Roger's ability to coach many different levels is due to his diverse background in sports and the understanding that "function dictates form." As a former division one athlete and professional athlete, he has a deep understanding of his clients' goals, objectives and how to work with them to make it happen.
Roger has written many articles and is in the throes of writing several books, The 5 Elements of Success Principles, The Best Golfer Ever Built and A Bird's Eye View of College Golf.
Roger is the founder and operator of The Golf Performance Center, LLC, Junior Golf Hub, LLC and Founder/Executive Director of the USA Junior Golf Federation.
Originally from Danville, VA, Roger currently lives in Ridgefield with his family.
WHAT PROPELLED ROGER KNICK IN THE GOLF INDUSTRY:
I began down this road of performance development after being inspired by a golf coach who told me that I was not good enough to participate at the highest level of competition due to lack of skills and knowledge. Reflecting on how coaching can be better for golfers and athletes, I was inspired to create a system that would represent all the elements of success. I developed our "5 Elements of Success Principles" to encourage athletes to follow their passion and desire to improve, to find and develop good coaching/mentor relationships, to instill a physical and nutritional understanding that "function dictates form", mental aspects of game, learning how to deal with failure, striving to have a curious and open mind to developing, and having the right equipment for the task at hand. I have applied these elements not only to golf but to life as well. I strive to create a culture of infinite learning, versus learning to be fixed.

This life lesson helped me understand a very simple principle — everyone's journey is different, and everyone needs to learn how to run their own race. With my purpose clear I felt it was important for me develop lectures in the field of sports performance for everyone from competitive and aspiring junior athletes to active competitive adults. I have been fortunate to serve as a consultant to many players and universities on golf, basketball, hockey, and baseball performance develop.